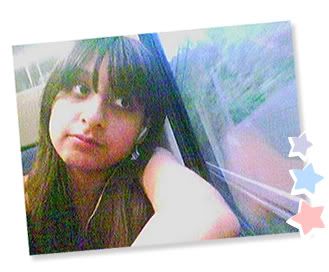 ★
Nick
: bunny☆kaisui (ブニ☆海水)
★
Nombre real
: Gaby
★
Fecha de nacimiento
: 15.12.1991
★
Colores favoritos
: azul y celeste, rosa, lila, gris, blanco, naranja.
★
Comida favorita
: milanesas con papas fritas, pollo, asado, tarta de jamón y queso.
★
Postres favoritos
: torta de chocolate, tarta de fresa, tarta de queso, escones, helado de agua sabor fresa y/o naranja o limón, helado cucurucho de fresa o limón. También las facturas argentinas con dulce de leche, los merengues (sobre todo los de colores) y los cañoncitos.
★
Comida odiada
: casi todos los mariscos y pescados.
★
Asignaturas favoritas
: Matemáticas!!!! Dibujo Técnico, Plástica y Informática.
★
Asignaturas "odiadas"
: Historia.
★
Mejor receta
: ... .... ..... omelettes?
★
Hobbies
: hacer manualidades, jugar en la computadora, hacer avatares/wallpapers/... con Photoshop y/o Fireworks, cantar, bailar, ver DVDs de conciertos, coleccionar stickers (aunque ya casi no continuo mi colección), jugar a videojuegos...
★
Cosas que más deseo ahora mismo
: mangas, muchos mangas, photobooks de idols, artbooks, DVDs de conciertos, maquetas/figuras de animes y videojuegos,
la camiseta de la Gatas Brilhantes H.P celeste
, unas gafas/anteojos con lentes sin aumentos (no las necesito, pero me gustan), ...
Idol (アイドル)
Petit Moni, Tanpopo, Morning Musume. (1998 - 2007), MiniMoni, Buono!, v-u-den, Melon Kinenbi, H!P Shuffle Units, MAtsuura Aya, Fujimoto Miki, Nakazawa Yuko, Natsumi Abe, Berryz Koubou, ºC-ute (especially indies), ZYX, Hello! Pro Egg, Aa!, GAM, DEF. DIVA, AKB48, Nice Girl Project, Tokito Ami, SweetS ,Onyanko Club, Wink, Takahashi Yumiko,...
Idol seiyū
(アイドル声優)
Aice5, THE IDOLM@STER seiyuus, Sphere, Yui Horie, Tamura Yukari...
Underground Idols
toutou, Karen Girl's, Mary Angel, MarryDoll, Negicco, Minami no Risa, Momoiro Clover,...
Jpop
Judy & Mary, Nami Tamaki, Hangry & Angry,...
Music
The Beatles, John Lennon, KISS y otros grupos de rock y heavy metal por influencias paternales :P, Gorillaz, ...
Animes/manga
Bishojo Senshi Sailor Moon
,
Cardcaptor Sakura
,
Ranma 1/2
,
Ojamajo Doremi
,
Pokémon
,
Digimon
,
iDOLM@STER XENOGLOSSIA
,
Angelic Layer
,
Magic Knight Rayearth
,
Saber Marionette
,
Dragon Ball
,
Maho Tsukai Tai!
,
Kimagure Orange Road
,
Maison Ikkoku
,
Zettai Karen Children
,
Rurouni Kenshin
,
Shōjo Kakumei Utena
,
Higurashi no Naku Koro Ni
(Anime)...
Series de televisión
Películas
Back to the Future I, II & III
,
Bill&Ted Excellent Adventure
,
Bill&Ted Bogus Journey
,
Pirates of the Caribbean
,
Resident Evil (1,2 y 3)
, todas las películas de zombies!, Cardcaptor Sakura: The Movie, Cardcaptor Sakura: The Movie 2 - The Sealed Card,
Moulin Rouge
,
Labyrinth
, Metropolis (Osamu Tezuka),
Sen to Chihiro no Kamikakushi
,
Monoke Hime
,
Hauru no Ugoku Shiro
,
Help! (The Beatles)
,
A Hard Day's Night (The Beatles)
...
Videojuegos